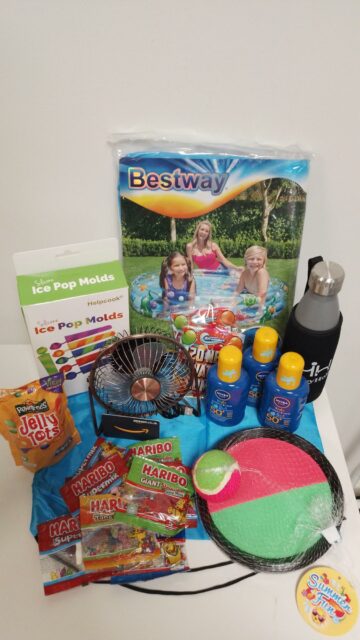 Between funding rounds our trustees are always looking for ways to help people and make an impact.
It was recently shared with them that many of the families we support won't go outside with their families this summer, as they can't afford items such as suncream for their children.
Wanting to change this, coupled with the want for people to simply be given something nice without having to save, apply or constantly ask, we soon brainstormed our way into a summer campaign.
We will be providing 50 of the families we support a bag containing items that they can use and enjoy as a family over the summer holidays.
Each bag contains;
Sweets
Water bombs
Thermos flask (keeps water cool for 24hrs)
Sun cream
Paddling pool
Fan
Velcro catch game
Silicone ice lolly moulds
Draw string bag
£25 Amazon voucher
We always receive kind messages from people who want to get involved in our campaigns, and even though everything is packed and on their way to families, you can still get involved by donating via our JustGiving page.
We've already popped a bag of sweets in each bag that each family can enjoy, to save the hassle of shopping and dropping them to us. Visit our JustGiving page to sponsor a bag, or two! Many thanks in advance!