'Before and After' pictures show the transformation of a Swansea housing complex
Residents of Robert Davies Court, Pontardulais have been working very hard with the Caretaker at the scheme, Mike Crocker, to improve the gardens and external areas at the scheme. This has now been enhanced further thanks to a joint initiative by the Pobl neighbourhood team and Pobl's housing and development team and local contractor Tycroes Group Ltd.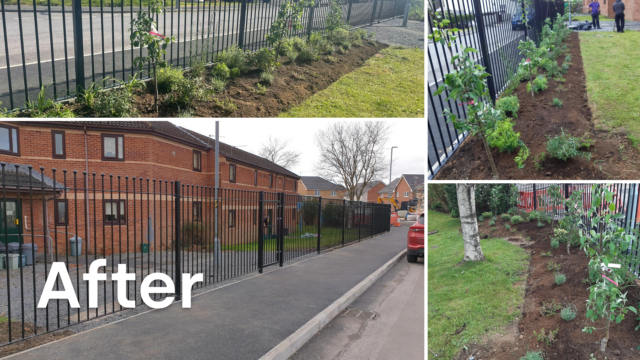 A replacement fence and new footpath were part of the contracted works associated with an adjoining new development's entrance requirements. These plans were enhanced after discussions with Pobl staff and consultation with the residents to include the removal of the old bin stores and the planting of new foliage and flowers, chosen by an in-house landscape designer.
Contractor Tycroes installed new borders, with the on-site caretaker, estates team and residents working hard to get all the beautiful plants bedded in.
Christopher Burdett, a resident of Robert Davies Court, told us about the difference that the improvements had made for them:  
"I have resided at Robert Davies court for two years. When I moved into the scheme it was somewhat tired and coupled with covid it suffered. I'm very pleased to state that the whole area has improved greatly, in particular the gardens and landscaping with the help of Pobl, and in particular, Mike Crocker, the caretaker. We were particularly impressed by the recent landscaping at the rear of the scheme bordering Cambrian Place. I would like to thank Nick Read and all the housing officers for their input in supplying the plants and shrubs, which has led to a spectacular upgrade."
Nick Read, the Area Neighbourhood Manager for Pobl, added:  
"The residents at Robert Davies Court and Caretaker Mike have worked really hard over the last couple of years to improve the gardens and landscaping there. The results they have achieved have been amazing; they have created an attractive and welcoming environment for residents and visitors alike. There are places to sit, people can socialise or just enjoy the gardens and many of the residents also get involved in the gardening activities. The new fence and planting gave us an opportunity to improve that side of the scheme and bring it up to the high standards achieved elsewhere in Robert Davies Court."