Universal Credit – Prepare for 'Managed Migration': What do you need to know?
The roll-out of the Government's 'Managed Migration' to Universal Credit for households and/or individuals still receiving legacy benefits will get underway in South Wales during October.
The roll-out will impact many Pobl customers and it is important that anyone affected by the switch understands what they need to do, and when, to ensure they are not financially worse off.
---
What do you need to know?
Anyone currently claiming tax credits will soon receive a letter from the DWP and HMRC that will let you know your tax credits (child and working tax) will be ending. The letter is called a migration notice. You will then have 3 months to make a claim for Universal Credit (UC).
The process is called 'managed migration' but it is important to remember you won't be moved automatically – you must make a claim. Most tax credit claimants will qualify.
It is essential that you claim Universal Credit within three months of receiving your letter. If you haven't claimed UC by that time then tax credits will end.
If someone is wondering whether it is worth claiming UC, remember that even a small award will qualify you for additional help with your utility bills through targeted support. This can be up to £900 annually. UC may also help you qualify for support with NHS costs and free school meals – as the ad said, 'every little helps'!
Many people receiving tax credits will be paying back an overpayment because of the way awards are calculated. Once tax credits end, HMRC will want to recover the debt from you. When you receive your migration notice, contact them to check your position before making your UC claim. HMRC will usually try and make deductions from your UC if you don't. You may be able to make an arrangement with them that will be more affordable for you.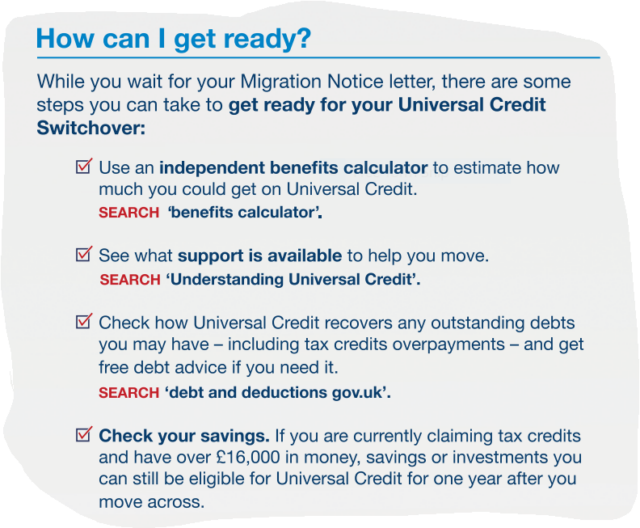 If you have any questions or concerns, or need help, you can contact the Advice & Support team at Pobl by calling 0330 175 9726 or emailing info@poblgroup.co.uk